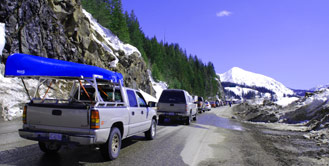 Travelling the Crowsnest under blue sky. Ice melts off the Selkirk Mountains and big horn sheep graze at the side of the road. Grasses burning fill the mountain air with the smell of campfires. Ribbons of CN cargo trains decorated with graffiti roll along the tracks. Variegations of dirt on snow banks imitate exposed rock. Traffic stops for fifteen minutes to let a road crew push massive piles of snow back from the highway.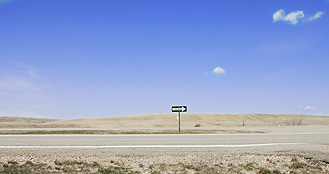 In Cranbrook a white cone ridge of Rockies appears. Traverse into wild rose country through the spectacular Crowsnest Pass. Within an hour we're the other side of the mountains, crossing the rolling grasslands of big sky country. Wind turbines line the horizon. Signs advertise: Top Notch Taxidermy, Buffalo Head Veterinary Clinic, Bull Sale in Taber.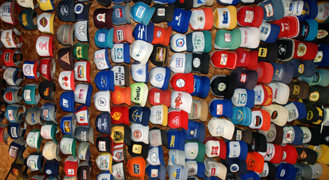 In The Hat, deer feed on a patch of grass in the centre of town. Through the fields of Saskatchewan, turn north towards Saskatoon. With less than a third of a tank of gas, luck out to find a gas pump in Fox Valley, where Dirk's lined the ceiling of his garage with caps. There's a tad just short of one thousand, he says.
No Comments »
No comments yet.
RSS feed for comments on this post. TrackBack URL
Leave a comment