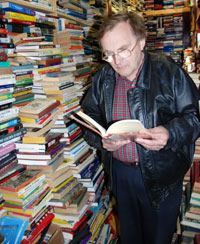 Along the CPR railway just west of Saskatoon, we take a detour to the Village of Perdue. I spot a stately two-storey brick building that's packed full of books and decide to return the next day to find out what the story is. But when my sister and I arrive the next morning, it seems that we are the story.
At Crawford's Used Books, we're met by Mayor Dave Miller; former Mayor Kelly Dwyer; Village administrator Nancy Dun; local author Bob Mason; Kevin Brautigam, the photographer from The Biggar Independent; and Ralph Crawford, owner of Crawford's Used Books. Seems it's not everyday a Perdue comes to Perdue. Actually, none of us are even sure a Perdue has ever been here.
The Village was named after my Great Grandfather who was Chief Justice of Manitoba. At the time it was determined that the railway needed a stop every seven miles because that was a reasonable distance for farmers to haul grain to the line and back. A hundred years later many stops have all but disappeared, but not Perdue.
For a village of four to five hundred, Perdue has an incredible infrastructure. There's a community centre with a skating rink, a curling rink, and bowling lanes. There's a library and a kindergarten to grade 12 school. There's a golf course, two parks with ball diamonds, a post office, a grocery store, a daycare centre, E-zee Wrap assembly plant, two service stations, two restaurants, a Hotel, pub, credit union, and one majorly fantastic bookstore.
Ralph Crawford moved his business to Perdue six years ago from New Brunswick, bringing with him roughly 300,000 books. Located in a building that used to be a Merchants Bank, it's packed floor to ceiling with stacks organized by category. Whether you're looking for a recent bestseller, a Victorian poet, or a book on astrology, chances are Ralph has it, and he can find it for you. And as he says, if you knock a stack over while you're browsing, no worries. It's a great way to find something. Big thanks Ralph for adding I'm a Registered Nurse Not a Whore to your collection.
After spending a half day in this village, it's clear that it not only endures but thrives because of individual hardihood and incredible community spirit. I owe a big thank you to everyone I met in Perdue, for overwhelming hospitality, friendliness and openness. This village has got ahold on me and I'll definitely be back. After all, where else can you browse for hours in a bookstore and then go for a coffee and a chat at the rec centre and leave your car unlocked? With the keys in it.
1 Comment »
This was amazing!

Comment by David the Liturgist — May 23, 2011 @ 3:30 am
RSS feed for comments on this post. TrackBack URL
Leave a comment