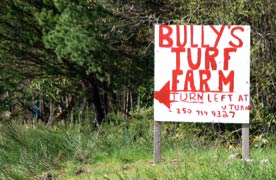 Thanks to everyone — including a high percentage of registered nurses — for taking time on a sunny Monday to stop by the Laughing Oyster Bookstore. And thanks Evelyn, Karen, Susan and Dean for making me feel very much at home.
On the ferry back to Horseshoe Bay, visited the Chief Steward to see if there might be an opportunity to offer a few books for sale in the gift shop. After all, there was an hour and a half ahead of us and even if no one wanted to buy a book, it would be a fun way to pass the time. Worked out a pitch that could be used over the PA system: We have an author on board who is loitering outside Passages with books and buttons…
There are rule enforcers and there are rebels. The second I looked into the Chief Steward's eyes I knew my mission was doomed. Her mouth pursed and then she informed me that there were rules about things like this. She said I needed to contact BC Ferries to seek permission. So I did.
Talked to Natasha who talked to her supervisor and then came back on the line to explain that there was no protocol around such activities. Suggested I go back to the Chief Steward and work it out with her. Good luck, she added.
But the Chief Steward was resolute. We can't sell anything on the ferry that's not in our inventory. Can you come back some other time, like between 9 and 5? Then she informed me that the shop had a preference for BC authors!
So I visited the shop to see if that was true. On the BC authors shelf I found Charles Dickens, Nora Roberts, and Maeve Binchy. Oh, and an author who lives in BC: Caroline Adderson! And many books on bears: Never Trust a Smiling Bear; A Bear Stole my Fishing Boat; Bear Attacks II: Myth and Reality.
I left the store to find someone to talk to. Introduced myself to a woman who was reading Billie Livingston. She offered to pass on one of my books to the owner of a bookstore whom she knows. She mentioned he carries an eclectic mix of books and he takes risks. Basically, she told me, if you can buy it on the ferry, he doesn't sell it.
1 Comment »
Thank God for rebels….

Comment by Ellen — April 20, 2011 @ 6:30 am
RSS feed for comments on this post. TrackBack URL
Leave a comment