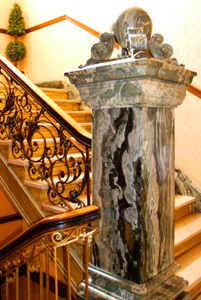 With earplugs, a bandana for the eyes, and a couple of beer, it's possible to sleep pretty much anywhere. I have a soft spot for economy motels where life is unregulated. Where the breakfast nooks smell of bleach cleaner and the restaurants encourage you to dine on Atomic Wings, warning, if you can eat a pound you get 'em for free. And where fellow guests — higher than the local water tower and more tanked than the transport trucks rumbling down the highway — run past your room in the middle of the night, occasionally slamming into your door while discussing whether to crash the pool or have another drink.
But once in awhile it's hard to say no to a little luxury that can transform you from dusty tumbleweed to roadway royalty. Enter: the Senator Hotel.
It has real brass room keys, white duvets, and a 1 pm checkout. The marble staircase, wrought-iron railings and candlestick chandeliers date back to 1908. The dining room ceiling has wreathes of rosettes surrounding the crystal chandeliers and Grecian frieze around the windows and doorways, and Winston's English pub is as comfortable and laid-back as they come.
Love all the old signage on the brick buildings in downtown Saskatoon. And the fantastic McNally Robinson Booksellers. Thanks Alicia and Helen for the welcome. And farmers, librarians, school teachers, nurses and university professors who stopped by to chat and talk about Saskatoon, nurses, whores, books, farming, the election, and life in general.