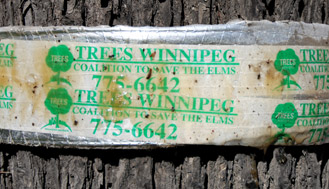 Piles of sandbags several feet high line the riverbanks protecting properties from threat of flooding. Meanwhile along Broadway and adjacent streets, trees are wrapped with foil bands to protect them from threat of aphids, cankerworms, and caterpillars. It's a battleground here, but one that's being hard fought.
Winnipeg may be situated in dry prairie but it's a city of trees. Close to eight million deep-rooted leafy flora shade the streets of this prairie metropolis. Oak, Elm, Ash and Maple Streets were all named not for the city's forebears, but for the trees they planted along the boulevards and sidewalks.
The threat to the city's trees won't recede with the same swiftness as did the 2011 threat of flooding along the river banks, but here's to every Winnipegger who's working to save the majestic canopy. Here's to Trees Winnipeg, a non-profit citizen's group working to protect and preserve the health of Winnipeg's urban forest.
And thanks to all family and friends who came out to one of the very finest bookstore in Canada: McNally Robinson Booksellers. And thanks John Towes, Events Coordinator, for all you do and for the eloquent introduction which included the following:
Anne has a way of teasing human failings into the light and exposing them gracefully, yet mercilessly, in a dark and affectionate manner. One character reflects in the title story that "leaving everything open to possibilities can lead to terrible fun and tragedy" and I can't imagine a more apt description of this collection.
No Comments »
No comments yet.
RSS feed for comments on this post. TrackBack URL
Leave a comment