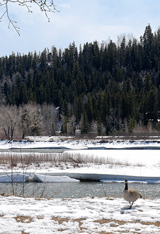 Calgary. It's cold. There's fresh snow here. Everything is white. I'm picked up at the airport by a registered nurse who is driving a white car. We head towards the city where the concrete Calgary Tower doesn't seem so tall anymore next to its glittering glass and steel high-rise neighbours. We wind around the Bow River, past the beautiful arched Louise Bridge and before I know it I'm on the campaign trail. This registered nurse has purpose and energy to burn. She warns me not to be shy with her. After all, she's bathed me, washed my hair, wiped my bum.
Janice was my babysitter when I was a small child and she's running as the Liberal candidate for Calgary West. She talks about the liberal platform, how it dovetails with her concerns to ensure higher education is affordable, and protect and improve health care, particularly for seniors. I feel at my best, she says, when I'm out talking to people about what matters to them.
She introduces me to Donna Morrissey's writing and suggests I might like Kit's Law. A novel set in an isolated outport in Newfoundland, that follows the lives of Kit and Josie and Lizzie. Forthright and feisty characters. It's April 14. Happy birthday Mom.